---
---
Photoshop needs removed from my hands…
I've noticed some trends in fandoms, especially with Grimmjow. People like to draw him in their style as black haired, with glasses or sunglasses. I took it upon myself to recreate these using a screenshot of Bleach. Like how I was putting hair on Ichigo and Ishida awhile back. What would that really look like?
Grimmjow has glasses, fear him!
Grimmjow hassunglasses, hear him roar!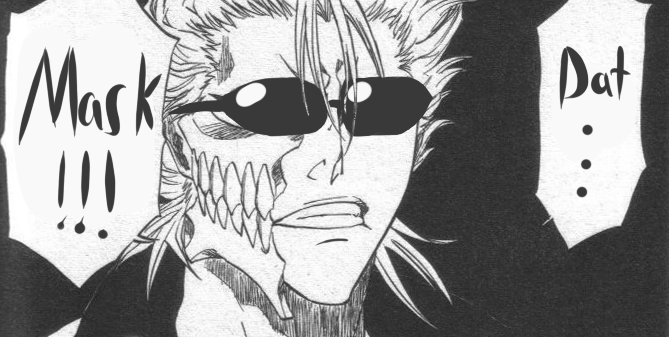 Grimm-kun has black hair!…and looks just as sexy!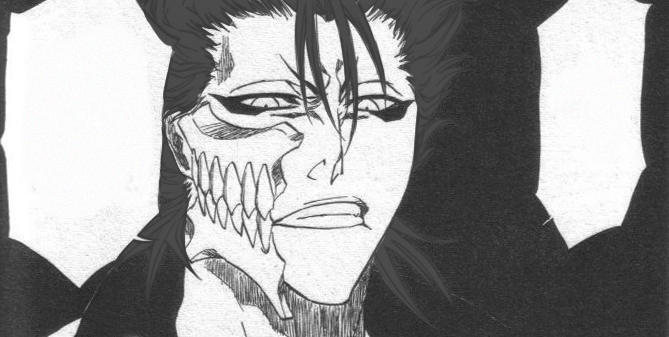 Oh no, he's lost his hollow mask and become a human!
Grimmjow is your sensei so shut up and listen!
LOL wat am I doing.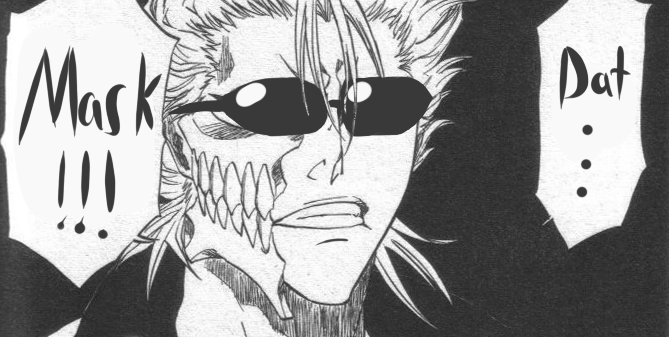 This one is extra sexy!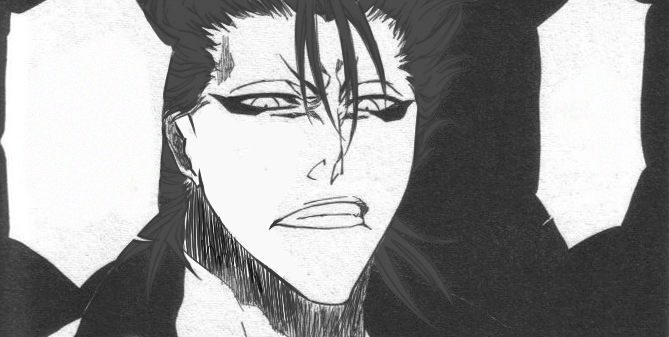 HURR I hope you enjoyed this randomness. I have too much time on my hands.
---
Guys my brother has to go in for an operation in about seven hours! Send good messages and I'll pass them to him!
I know this is random but I feel bad because he's been depressed about this. :(
---
I might be gone for awhile everyone, my mom is in the hospital with heart troubles and I`m watching my little brother.
To anyone waiting for stuff, I`m really sorry!
---
Well that escalated quickly. I went from drawing Ichigo alone to drawing GrimmIchi hotness.
TEEHEEE GRIMMY'S BUTT. <: MIGHT FINISH.
---
His expression is so tragic looking like this. GOSH MY HANDSOME BABY, YOU DESERVE A HUG.
This would probably look good as a wallpaper, huh?
---
---
"From inside his mouth, I lick the blood. While he's roaring and biting I wash off the mud." - Bat For Lashes
I've been really wanting to draw these two again, I just have a lot of projects on deadlines. But I got a lot of that done so I thought I'd reward myself. WIP.
GRIMMY WHERE ARE YOU? I NEED YOU FOR MY GRIMMICHI FEELS.
---
Bleach 30 Day Challenge! Day 1!
I've REALLY been wanting to do this! I decided, why not? So here it is!
1. Your favorite character:
I'd like to think this is fairly obvious since almost all of my art contains some form of Ichigo XD So uh, kind of generic but true! Our cute, angry, badass protagonist! I just love his personality, he is very 3d and realistic to me(well minus having all those powers!) how he has all sorts of emotions. Honestly I have never seen an anime character express such a broad range of emotional reactions, from goofy, funny, angry, endearing, sad, and pretty much all things in between! So yes, the adorable Ichi-kun!
---